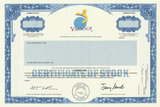 Yahoo! Inc. [YHOO] Stock Certificate
I'm a Google man myself. And I believe the maxim, "Men Are From Google, Women Are From Yahoo."
The stock certificate itself has a nice classic design with a colorful vignette.
Monica bought this for me from OneShare.com for our wedding anniversary. She chose a nice Mahogany-colored frame with a matte plaque that says "A little Yahoo/just for you."
Microsoft is currently trying to woo Yahoo back to his place, but Yahoo secretly wants to hookup with Google. Microhoo spawn scares me and Yahoogle's offspring would just be weird. Just say no, Yahoo! YOU CAN DOOOO IT.