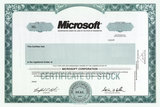 Microsoft Corporation [MSFT] Stock Certificate
I thought that getting this stock certificate was important because of the impression that Microsoft has made on the computer industry. My ownership of Microsoft shouldn't be taken as an endorsement by me of their business practices or products.
In fact, as time goes on, the Microsoft Machine keeps cranking out products that do not have their customer's best interest in mind. I could go on for pages about their love for Hollywood and Digital Restrictions Management (DRM). I do have a story to tell about their growing practice of treating their customers as criminals.
Recently, I built a new Core 2 Quad Extreme desktop computer for my house. NewEgg, of course, had great deals on all of the components and offered a great deal on the new Windows Vista Ultimate. I had planned to build this computer to be a dual booter between Windows and Gentoo Linux. I thought, // Why not get Vista? I'll get to know all of the changes that Microsoft made and expand my horizons ... it can't be THAT bad... //. heh.
After building the system and obtaining the bleeding edge alpha Vista drivers for all of my components, I installed Vista. Installation went smooth and the super-alpha drivers worked okay. I went ahead and activated Vista.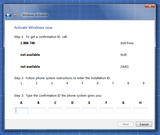 Fast forward three months. I'm still staying on the bleeding edge of all the drivers, because it still feels like I'm beta testing Vista for Microsoft. My motherboard manufacturer released a new BIOS that included the recent microcode update for the Core 2 family of processors. Intel also released a big update for their Intel Matrix Storage (internal RAID controller on their 965P chipset). I rebooted after updating, logged into Vista and I was greeted with a very nasty message, basically accusing me of stealing Vista. It said that I had less than three days to activate my copy of Vista, or purchase a new license. It warned that if I didn't do this, Vista would go into reduced functionality mode.
// WTF // I thought. I tried to activate online, and it said that I had an invalid product key and advised me to call Microsoft. I followed the prompts, waited on hold for 30-40 minutes. As I was about to hang up, the call was finally answered by an Indian man with a super heavy accent. He made me describe the entire incident and then he told me that his role in this process was just to verify my product key and hand me off to someone who could help me. After about 30 minutes of repeating things, spelling out things, ("Yes, it's PATRICK... that's PAPA ALPHA TANGO ROMEO INDIA CHARLIE KILO...") he told me that the wait for a technician was two to three hours, and asked if I'd like to stay on hold. At this point I basically told him to shove it.
As I hung up the phone, I sat there. I felt betrayed. I had spent good money (a lot of good money even if NewEgg was running a good deal) to buy this barely working piece of shit. Now they're gonna hassle me like this? Can you imagine if you got your car washed and had new tires put on, then went to start it up -- then DING We're sorry, GM has determined that you have an invalid VIN number. Please call GM and have this VIN reauthorized or buy a new vehicle.
Why does the industry let this bullshit go on? If auto manufacturers did something like I imagined above, there would be riots, lawsuits, and the definite demise of the offending corporation. On top of all that, my daily RSS feeds have been telling me for months that pirates have fully cracked Vista's authentication scheme. I guess I could have stole the damned thing and not have been hassled.
WAKE UP MICROSOFT!
So, back to the point of this entry ... I'm putting Microsoft Corporation on notice. While I have a very small investment in your company, I guarantee that my little shareholder votes will be hostile against any board member and all of their recommendations if that board member supports this anti-consumer, monopolistic behavior. Also, letters will go out to my senator and congressmen on all issues that will stop this kind of bullshit from happening. Finally, if every three months I have to go through this reactivation shit, you will be hearing from my state attorney general, the Better Business Bureau, the Federal Trade Commission, and any other organization that I can get to listen. You've been warned.