Sunday, February 12. 2006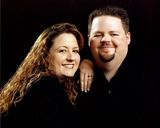 This is our engagement picture that we had published in the local newspaper.
Saturday, February 11. 2006

Almost one year ago, I asked Monica to be my wife. We traveled to Ruidoso to have a romantic two year (dating) anniversary. I booked a nice cabin in the woods and had a dozen flowers delivered to the room before we arrived. On February 14th, 2005 I asked her to make me the happiest man in the universe... and she said yes.
(Page 1 of 1, totaling 3 entries)