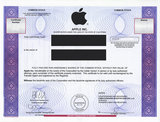 Apple, Inc. [AAPL] Stock Certificate
Apple's stock is booming these days thanks to the uberhyped iPhone.
I was fairly disappointed with this stock certificate. While it has an excellent design and color scheme, it has a few things about it that aren't quite right. First off is it's size. They chose the strange format of 8.5 by 11 inches instead of the familiar 8 x 12 inch paper size. The second thing "wrong" with the stock is that it feels like it was printed on a common laser printer using common paper. Most stock certificates feel almost like a crisp dollar bill -- they almost feel engraved.
Hmm... an Apple product having excellent visual appeal, yet failing to fully deliver the whole package... sound familiar?