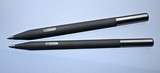 I'm a nut for small, well-designed machines. Most of my interest in firearms comes from my appreciation of them as small machines that can do a large amount of work.
I don't think many people consider pens to be machines. Just picking up a BOMA Pen by Inkling, Inc. will shortly convince you that they are a machine and a marvel of engineering. I have the pleasure of owning one of the last made D6 BOMA Pens.
Mike Scherer over at Inkling, Inc. painstakingly creates these wonderful things. The tungsten composition of these pens make them feel strangely heavy in the hand. Once you start writing, it just feels good. I've paired mine with a medium point ink cartridge, since I like the bold and deliberate feel of larger tip pens.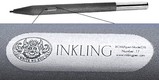 Mike spared no expense. The pen comes protected in a cherrywood box with the company logo emblazoned on the side. The top of the box acts as a cradle for the pen when you wish to put it on the display. I bought the multi-balance set which includes three different endcaps of different composition for you to change the center of gravity.
I also had the opportunity to get a BOMA coin. This coin is also made of tungsten and has interesting designs etched in both sides. The coin is fun to play with when you're brainstorming and its also a conversation starter when you spin it.

It looks as though Mr. Scherer has taken a break from making these wonderful machines and only two are left. If you really appreciate well-designed items with a high attention to detail, consider purchasing one of the two remaining pens. You won't regret it.
Finally, I must say that Mr. Scherer does a much better job of eloquently describing the pens, their box, and all of the details of the design process at the Inkling Pen Company web page. I also encourage you to visit the website. As you're perusing the pages, you might think that the narrator has gone overboard in describing the quality of the pen. Let me reassure you, the praise is well justified.