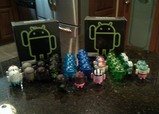 Andrew Bell has released Series 02 of his popular Android™ Mini Collectables.
With a good deal of luck and perseverance, Monica and I were able to get two cases of these vinyl artworks. Andrew blogged detailed entries at the Dyzplastic Production Blog [parts 1, 2, 3, 4, and 5]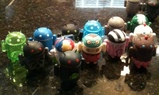 Artists featured in this collection include Andrew Bell himself, Gary Ham, Google, Inc., Scott Tolleson, Jeff Yaksick (for the Android Team and for Google), and last but not least, Doktor A. If you're interested, check out the Dead Zebra, Inc. Shop or follow Andrew on Twitter.