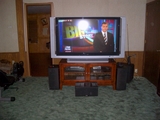 Monica and I just got finished installing our new Home Theater. The biggest "new" part is the Sony Grand Wega SXRD HDTV. The rest of the system is a set of Polk Audio Speakers, an Onkyo Receiver, and a custom built HTPC. The HTPC is the brain of our setup. It feeds DVDs, CDs, local television, HD television, and timeshifted video to the rest of the system.
For the geeks out there, the HTPC has the following components:
Shuttle SB51G Case
Intel Pentium 4 3.02Ghz Hyperthreaded Processor
1 GB RAM
BFGTech NVidia Geforce 6600GT
Creative Soundblaster Audigy 2
The most important part of the HTPC is BeyondTV. It is an excellent software package developed by Snapstream Media, headquartered in Houstin, Texas. The developers keep packing in more features with each release. I encourage people who want to go the HTPC route to take a good look at BeyondTV. It kicks the crap out of TiVO and other competitors. You can find more information at the Snapstream Media site, Snapstream Forums, and Snapstream Blogs. You can see other peoples' Home Theaters in Snapstream's blog under the Digital Livingroom category.